Sale!
🏒 Synthetic Ice Tiles: Our premium Swiss engineered synthetic Ice-Lock panels provide an authentic ice-like experience, allowing you to skate, practice, and master your best moves. These durable, high-quality panels offer excellent glide and a realistic feel, ensuring hours of uninterrupted skating enjoyment. Multi-functional design allows you to practice skills with skates or included slide booties.
🏒 Puck Stopper Edging: The Sick Mitts Skill Set includes specially designed puck stopper edges. These flexible barriers create a safe and contained space for training, rebounding and stick-work. They also act as a buffer to protect the surrounding area from any accidental slips or falls, ensuring a worry-free experience.
🏒 Expandable Design: Our kit is designed to grow with your skills and ambitions. Each Sick Mitts Skill Set comes with FOUR of synthetic ice tiles, which can be easily expanded by purchasing additional synthetic ice panels to create your desired surface size.
🏒 Easy Installation: Setting up your Skate Anytime rink is a breeze. No special equipment or expertise is required. Within minutes, you'll have a fully functional synthetic ice rink ready for endless skating endeavors. Our rebounder is a part of that easy installation process! Set yourself up for success by adding the Rebounder onto your rink.
🏒 Versatility: Skate Anytime Ice-Lock panels are designed to work on various smooth surfaces. You can transform your garage, basement, or even a spare room into an ice rink. Practice your skating in any weather, all year round. Plus, the tiles are durable and reusable, ensuring long-lasting performance.
🏒 Portable and Reusable: Skate Anytime panels in the Sick Mitts Skill Set are lightweight and easy to move around, allowing you to set up and dismantle your ice rink whenever needed. Use the included Skate Anytime Glide Cleaner to keep your panels looking new and reusable.
Get ready to skate anytime, anywhere with the Sick Mitts Skill Set— A complete package for starting to build your own expandable syntehtic ice ice rink. Whether you're a beginner or a seasoned skater, this kit will ignite your passion for skating, training and provide endless opportunities for improvement.
Sick Mitts Skill Set – What's Included?
– 4 Skateable Synthetic Ice Panels, Total of 12.5 sq. ft
– 1 Long Puck Stopper Edge
– 1 Short Puck Stopper Edge
– 1 (15") Rebounder
– Skate Anytime Glide Cleaner
– 1 Skate Anytime Puck
– Slide Booties
Skate Anytime – Sick Mitts Skill Set – Synthetic Ice For Hockey – Skateable Artificial Ice Tiles – Expandable

Worry-Free Guarantee


5 Year Warranty on all products

Battle Tested for Hockey


Used by NHL pros, trainers & coaches
All Weather Durable


UV Protected / use indoors or out
Quick & Easy Assembly


Easy setup. No tools required
`
PUCK HANDLING
Develop Soft Hands & Quick Wrists
`
PRACTICE, IMPROVE & THRIVE 365
Quickly & Easily Get Unlimited Ice Time, Puck Touches, Hockey Stops, Inside & Outside Edge Work Anywhere, Anytime!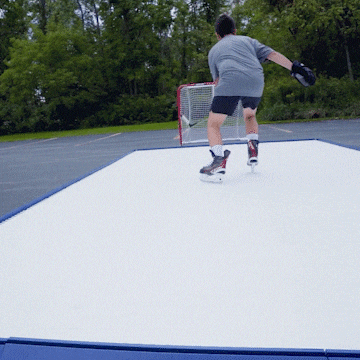 `
MAKE ALL THE SHOTS
Practice All Of Your Shots While On Your Skates! Slapshots, Wrist Shots, Lifters & More.
"I've had my ice surface for over 3 months and it's working great! I have it set up in my garage and I can drive my SUV right over top of it without any problem as the tiles are sturdy. The tiles were very easy to put together using a mallet. It's so far great for my young kids who are 5 and 3 to gain confidence in their skating and balancing. I enjoy using it primarily for my stickhandling, passing and for shooting drills. "
TRAIN WHILE YOUR COMPETITION RESTS
Frequently Asked Questions
Build My Rink With BONUS Savings
No Obligation Custom Size Quote with Best Pricing