Sale!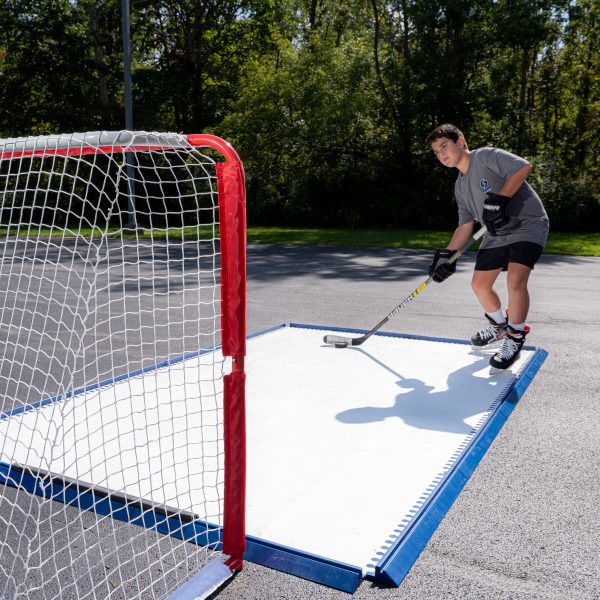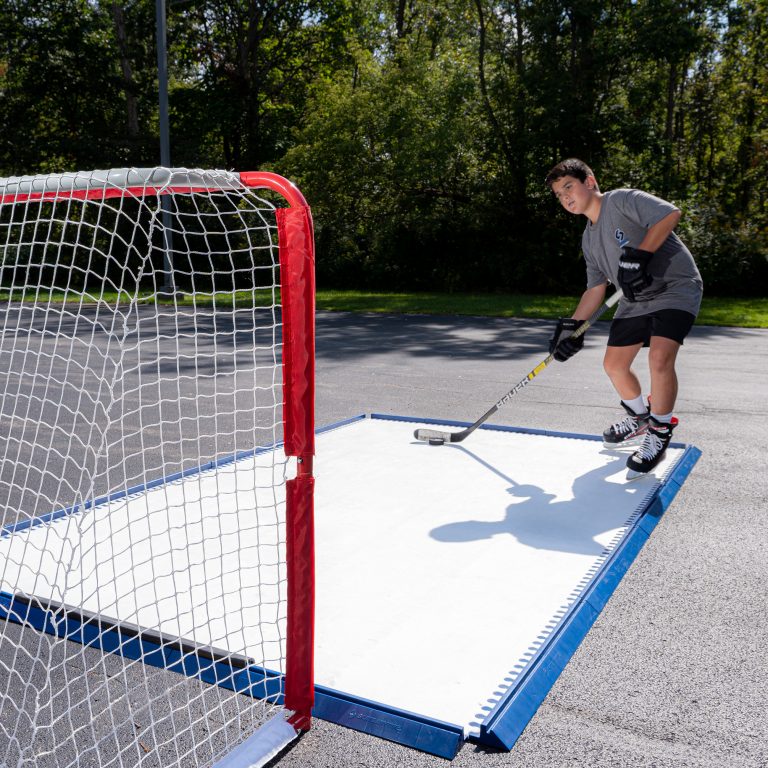 🏒 QUICKLY & EASILY GET UNLIMITED ICE TIME, PUCK TOUCHES, HOCKEY STOPS, INSIDE & OUTSIDE EDGE WORK, ANYWHERE: The only way to dominate on the ice, get game time and win 1 on 1 battles is by getting ice time.  See how Skate Anytime Customers are Using Synthetic Ice Rinks to Build & Develop Hockey Skills.
🏒 GENTLER ON SKATES THAN COMPETITORS, WORKS ON ANY HARD SURFACE, INSIDE OR OUT, RAIN OR SHINE: Great practice ice for backyards, garages, basements, decks, driveways, spare rooms & more.
🏒 SKATEABLE SYNTHETIC ICE – EUROPEAN DESIGNED FOR SUPERIOR FIT & SMOOTH GLIDE: While other products are off-the-shelf sheet plastic, our advanced injection molded technology ensures the panels are battle-tested for hockey.
🏒 NO GLIDE SOLUTION NEEDED, SUPER LIGHTWEIGHT, EFFORTLESS TO TAKE APART & SET UP WORKS RIGHT OUT OF THE BOX: Easy to assemble & store ice skating rink kit. Does not require any additional add ons to start using.
🏒  PRACTICE DRILLS & SKILLS WITH UNLIMITED ICE TIME AT HOME – GAIN CONFIDENCE THROUGH REPETITION: Great practice ice for basements, driveways, decks, garages and more. Worry Free 5-year manufacturer warranty. Blue Puck Stopper Edging available separately.
Skate Anytime – 20 Panel – Synthetic Ice For Hockey – Skateable Tiles – Backyard Ice Rink – Starter Kit
Frequently Bought Together
SAVE 10% On These Great Items When Purchased Together

WORRY-FREE GUARANTEE


5 Year Warranty on all products

BATTLE TESTED FOR HOCKEY


Used by NHL pros, trainers & coaches
ALL WEATHER DURABLE


UV Protected / use indoors or out
QUICK & EASY ASSEMBLY


Easy setup. No tools required
`
PUCK HANDLING
Develop Soft Hands & Quick Wrists
`
MAKE ALL THE SHOTS
Practice All Of Your Shots While On Your Skates! Slapshots, Wrist Shots, Lifters & More.
`
PRACTICE, IMPROVE & THRIVE 365
Quickly & Easily Get Unlimited Ice Time, Puck Touches, Hockey Stops, Inside & Outside Edge Work Anywhere, Anytime!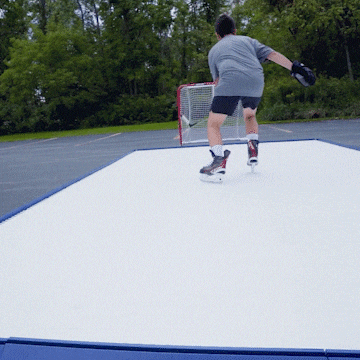 "I've had my ice surface for over 3 months and it's working great! I have it set up in my garage and I can drive my SUV right over top of it without any problem as the tiles are sturdy. The tiles were very easy to put together using a mallet. It's so far great for my young kids who are 5 and 3 to gain confidence in their skating and balancing. I enjoy using it primarily for my stickhandling, passing and for shooting drills. "
TRAIN WHILE YOUR COMPETITION RESTS
Frequently Asked Questions
Build My Rink With BONUS Savings
No Obligation Custom Size Quote with Best Pricing